Disclaimer: This isn't a sponsored post, but our family did receive free tickets to go check out Santa's Village. I'll never reach true influencer level status, but hey, we had fun.
If you've got young kids and are looking for a fun summer getaway, I've got the perfect giveaway for you: I'm giving away 12 FREE tickets to Santa's Village Azoosment and Water Park in Dundee, IL.
Our family had the opportunity to go and check out the park earlier this week and all it had to offer, and it was a total blast. We have 5 kiddos, ages 13, 11, 9, 7, and 2, and the park was the perfect combination of activities to keep the older two entertained while the younger kids played to the heart's content.
If Cedar Point or a bigger theme park really isn't your speed yet (*raises hand*), Santa's Village is really the perfect size. It's small enough that we could easily navigate it, yet it was downright packed with tons of fun activities for the kids.
Here are some of the highlights of our trip:
The rides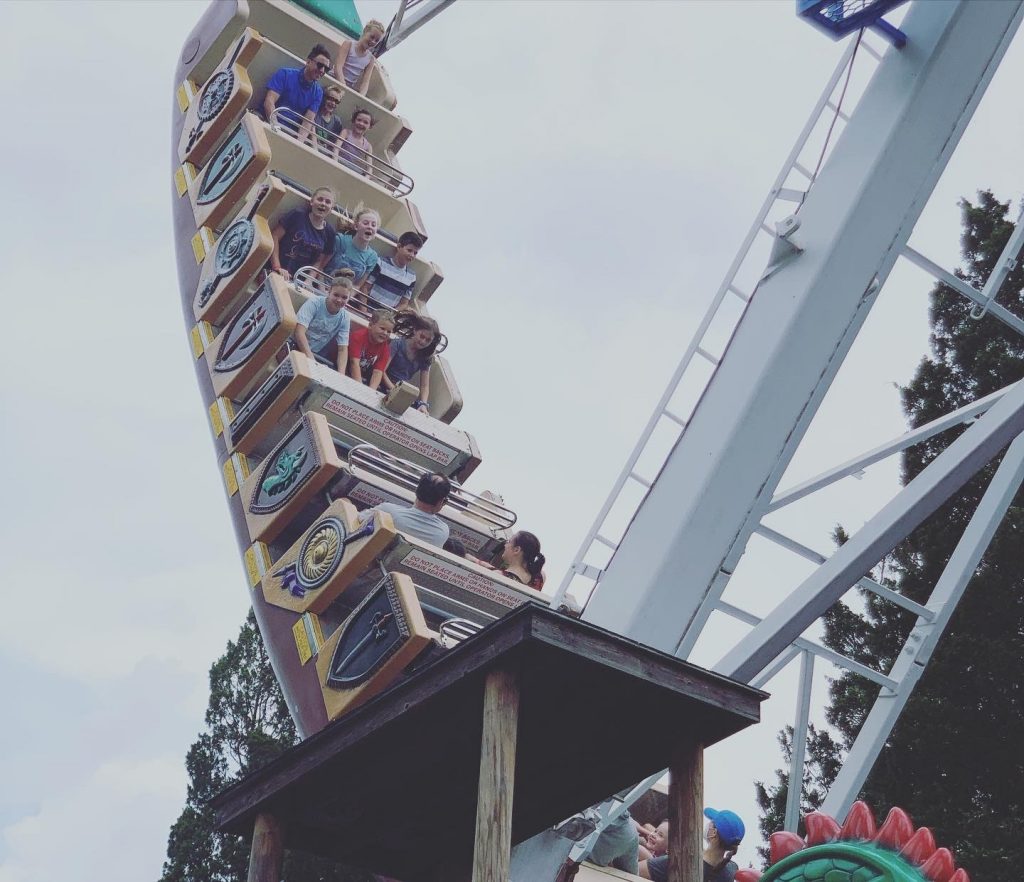 The rides were definitely a huge part of our visit. My older kids haven't really been to a "big" theme park yet, so they were thrilled with some of the bigger attractions there, like The Blizzard (that flips them outside down and spins them), the "Worm" kid-friendly coaster, and the Extreme Elevation drop ride.
By far, however, the most popular ride was the fair classic, the Viking Sea Ship. They probably rode that one about 20 different times.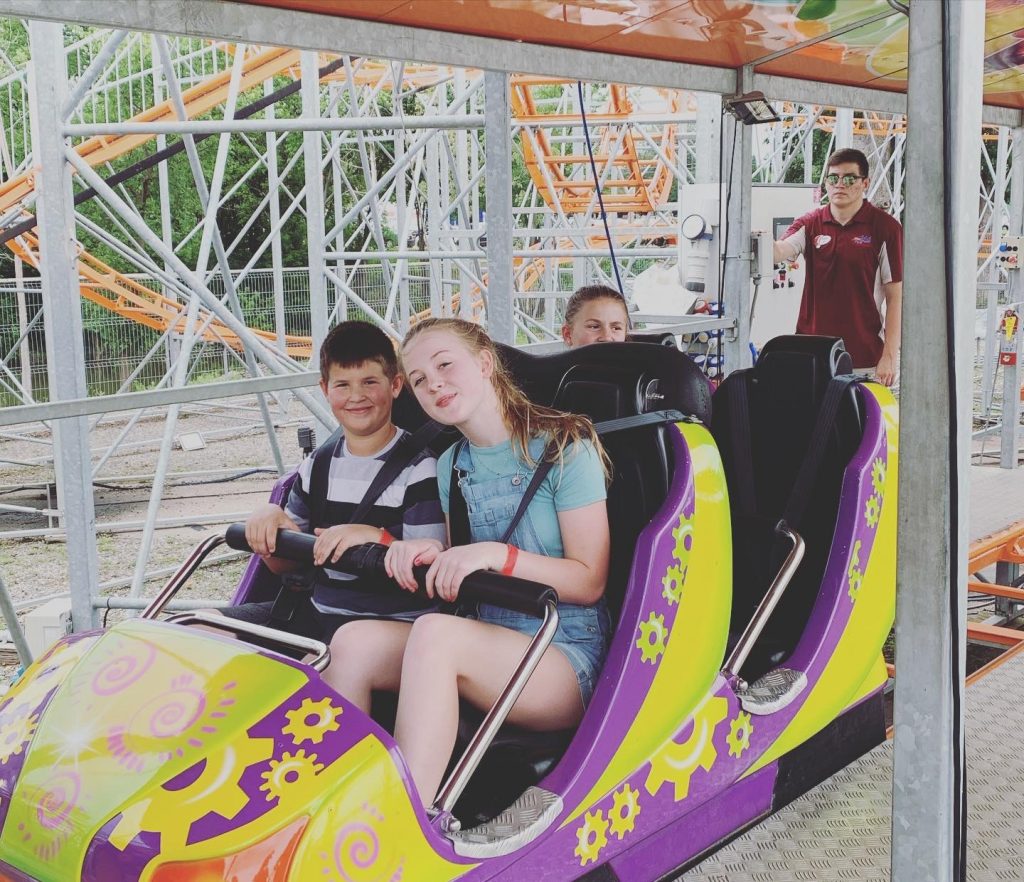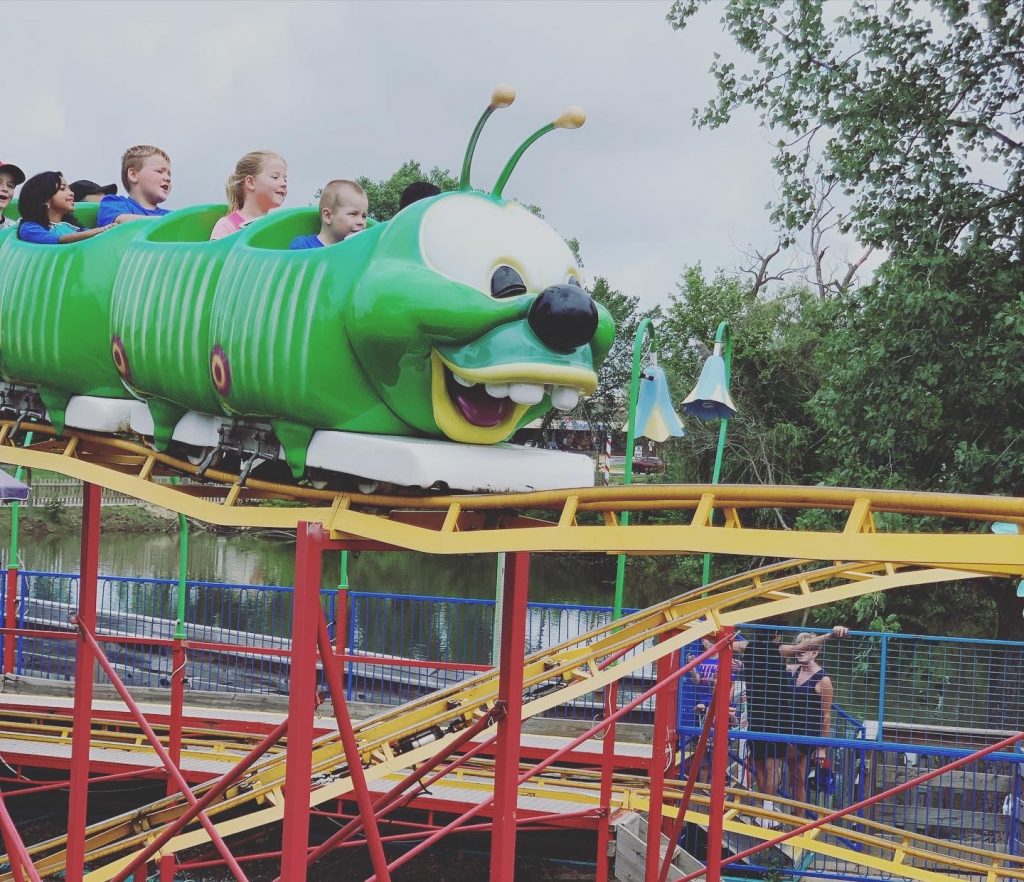 The mining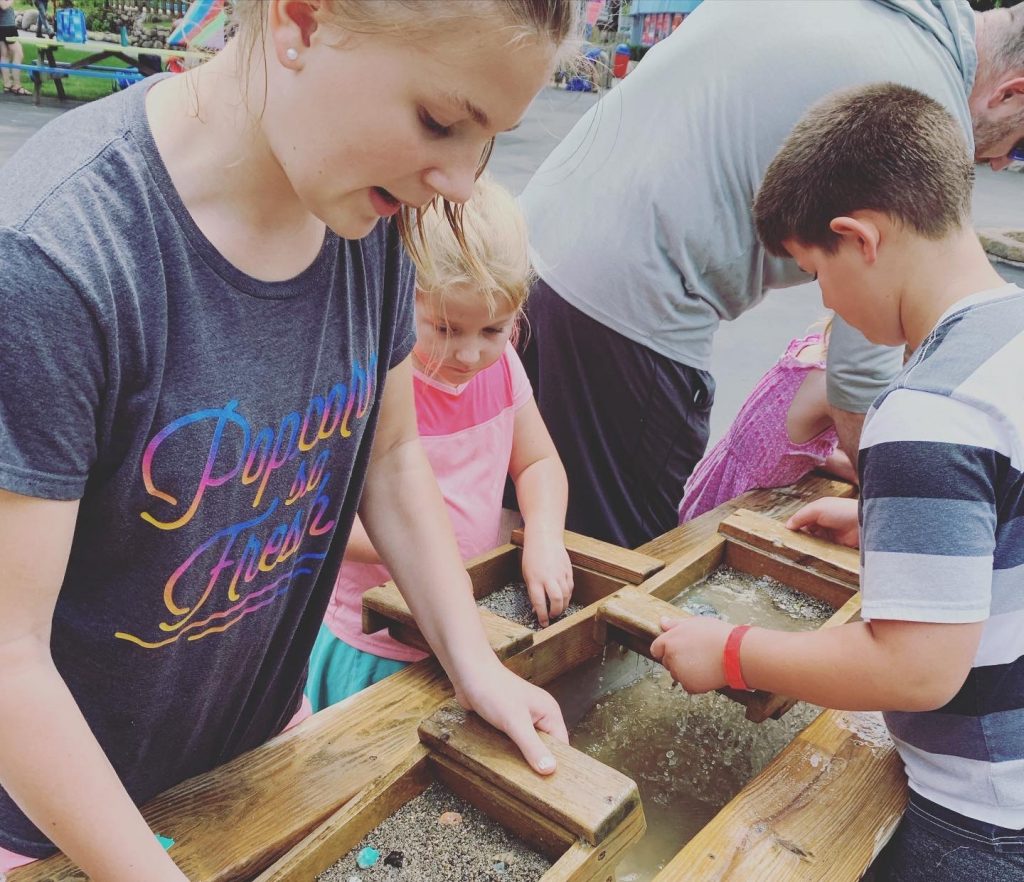 Next up was mining for precious jewels and gold. All 5 kids loved this activity, which is easily located right in the center of the park, and it kept them happy and cool as they searched through the water for gems. Plus, they got to keep the jewels they found as a souvenir for home.
The animals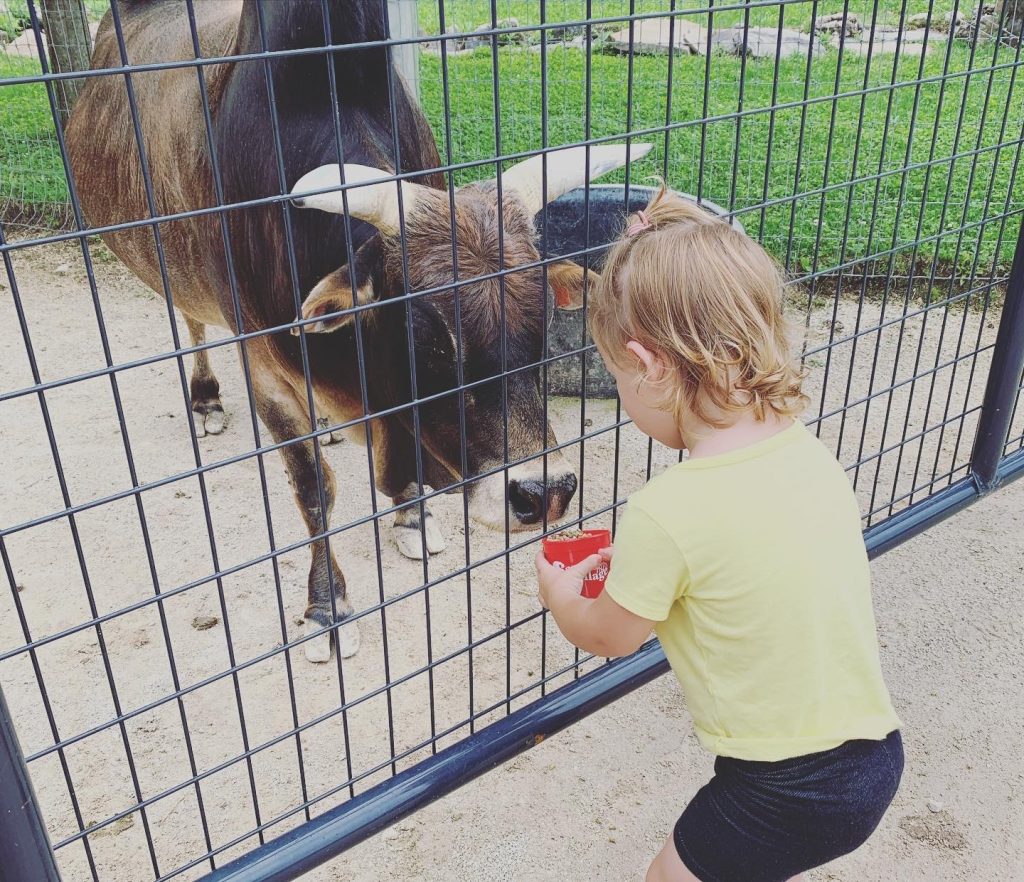 Santa's Village features both a tortoise display (why was I so amazed at seeing tortoises up close?! It was so cool!) and a barnyard zoo where kids can feed all the animals. Even our farm kids who feed animals every day for chores got a kick out of feeding all of the animals (safely behind fences because I definitely couldn't keep up with the toddler by then!).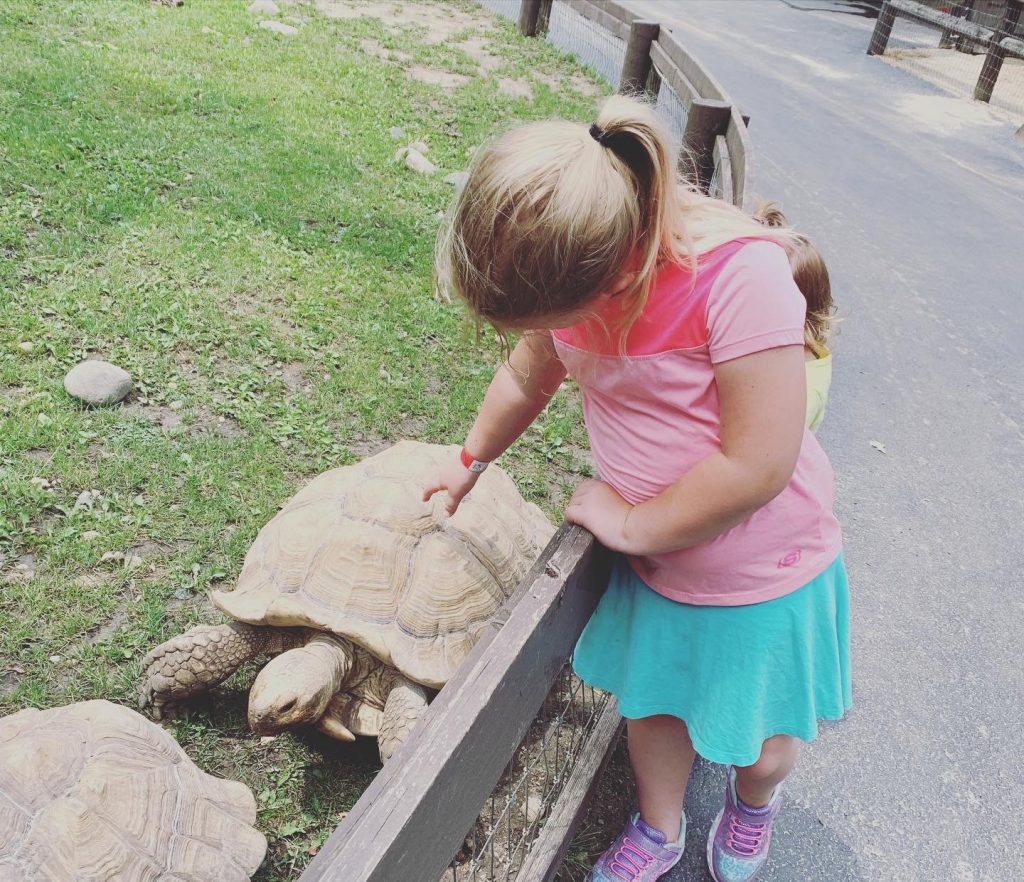 The waterpark
After we rode all the rides, went mining, fed the animals, and ate lunch, we hit up the waterpark, which featured a full play structure that was the perfect size for my toddler, 7, and 9-year-old, while the big kids (and Dad) hit up the bigger water slides. It was the perfect way to cool off after riding rides all morning and we spent the afternoon splashing in the sun. (You know it was fun because I forgot to take pictures!)
The arcade + game alley
We ended our day by hitting up the arcade and the fair-style game alley for some friendly family competition-the kids all had a blast and bonus: every game in the game alley let them win a huge prize. I honestly couldn't believe the value of the prizes they gave away, so it was totally worth it and a great way to end the day. (And yes, the toddler fell asleep cuddling her prize "fishy" so it was the sweetest win ever.
A few tips for your visit:
If you visit Santa's Village (and you totally should!), here are a few quick tips:
This is definitely a park for the younger crowd. Like I said, our older kids were plenty entertained, but it's best for the under 10 crowd.
Have a back-up plan. The whole park is outside, so if you take a road trip like we did (we drove about 5.5 hours from Southeastern Michigan to get there), definitely have a back-up plan in case the weather is bad and the park is shut down. Fortunately, you're near Chicago, so there is plenty to do. We got rained out on the day we planned, but instead, found some indoor activities near our hotel.
Bring a wagon or stroller. The park is small enough that we got around without one, but I wish we would have brought one to haul everyone's bathing suits and towels-there's a nice locker room and changing area by the waterpark area, so it's definitely worth it to bring everything in instead of changing in the car like we did.
Win FREE Tickets to Santa's Village!
Santa's Village was kind enough to offer 12 FREE General Admission tickets to the park if you want to check out the fun for yourself! Be sure to like them on Facebook and Instagram and you can head to my Facebook page to enter!