Have you ever felt like your entire life has been spent waiting?
Waiting to get through school, waiting to start school, waiting for a dream, an opportunity?
Waiting, waiting, waiting…
In many ways, I have felt like I have been waiting for something all of my life.
Waiting to feel like a "grown up," waiting to know what I'm supposed to do with my life, waiting for that next step, that next thing that will make me happy.
Waiting is not always an easy thing, or a place of passivity. 
The nine months I spent waiting after those first two tiny blue lines appeared were some of the hardest of my life.
There were many tears shed, a whole lot of doubt, and a little bit of denial thrown in for good measure. Could I do this? Would I be a good mother? Would I be able to live the life I once dreamed of?
I couldn't have known then that nine months of waiting (minus one week for the saving grace of a baby who came early!) would lead me to my greatest blessing and joy.
I couldn't have known then that my daughter, the mysterious being that I had irrationally feared, would be the single most incredible gift my life had known until then.
And I most certainly couldn't have guessed that not only would all of the dreams I had then come true, but in many ways, I would have motherhood and the little girl I once swaddled in a fuzzy green blanket to thank.
Today, my first book, Tiny Blue Lines: Reclaiming Your Life, Preparing For Your Baby, and Moving Forward in Faith in an Unplanned Pregnancy, is officially released through my publisher, Ave Maria Press.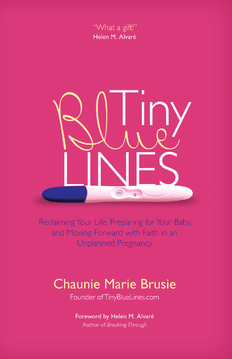 And for the first time in my life, I feel at peace at where this journey has brought me. 
Which when it comes right down to it, is what my book is all about. Understanding the intersection of motherhood and selfhood; making sense of how an unplanned pregnancy can fit into the carefully-molded plans of your life. And realizing with wonder, that it can be better than you ever dreamed possible.
There have been years of wondering if I was doing the right thing, if I could be enough or do enough, and now, finally I am starting to realize that it's not about how much I accomplish or how the world sees me or even what other people think of me.
It's about self-acceptance. 
It's about believing in myself, loving the person I am and the woman I will become.
Accepting the "bumps" that come up along the way, looking towards the future, always dreaming, but still loving the now, and sometimes, waiting with hope for the moment that it all makes sense.
But luckily, there's no more waiting for me to share the excitement of my book! It's now available wherever books are sold and you can find it on Amazon, Barnes & Nobles, and Ave Maria.com. I would love if you could consider sharing it with the young mom in your life or contacting me at [email protected] if you would like to purchase bulk copies for your pro-life ministry. 
And because someone forgot to add the famous thank you page in her book (cough*amateur* cough), I'd also like to say thank you to all the young mamas that contributed their stories and support to my book. I am inspired by each and every one of you!
Michelle of Early Mama
Jacquelyn of j&j Brusie Photography
Mandy of B Sides: The Amateur Mom
Raquel of Story of a Rose
Tara of The Young Mommy Life
Darlene of Tales of a Young Mamma
Jessica of Four Plus an Angel
 And there are so, so many more of you. So from the bottom of my heart, thank you for living the life of your dreams while showing the world that young motherhood is not a dead end.