Sometimes I forget that unplanned pregnancy doesn't just happen to young moms. Here is the story of Edie and Erin Schmidt, who remind us that those two tiny blue lines can change our lives at any age. Find more from Edie on her website here. 
"Oh, look! Loooook!" I said, as I held up the tiniest pair of little gym shoes I'd ever seen. "Just like big brother's!"
"No!" my husband said.
"Whyyyyyy?" I pleaded.
"You know why!" he said for the hundredth time. I've already had the surgery and I'm not having it reversed. Besides, we're old."
Our baby began with a wish in shoe store. My husband swears that I prayed that day, but I didn't. However, I did wish very, very hard and then, I forgot about it.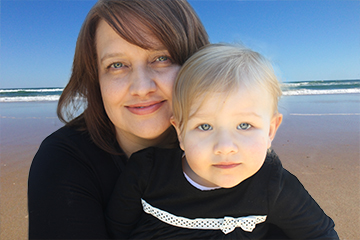 We were at that store to buy gym shoes.
My twenty-year-old son, Josh had inspired and shamed us into gym memberships. So every morning at 5:30, we'd stumble out of bed, whine, complain and head off to the gym with him before work. At first it was miserable, then it was fun, and then I started using it to prepare for my day.
I was a radio host and show topics were never easy to come by. So as the clock counted down on the treadmill, I'd think about it, and those thoughts would naturally lead to prayer. One morning while I was on the treadmill praying, I had the strangest feeling that I needed to be working out much harder, because something was coming and I needed to be strong for it. The feeling persisted, and day after day I pushed myself. Sometimes I'd even work out twice a day. We changed the way we ate. We all lost some weight but it wasn't my focus anymore. It was about strength and endurance. My daily treadmill prayer changed from preparation for the radio show to "God help me be strong for what lies ahead."
"What in the world could be coming that would require me to be strong?" I wondered. I told the guys and a couple of friends about it. Everyone gave me the same look. I understood.
One morning while I was driving to work, I suddenly felt sick. Flu was my first thought, and then a second later I recognized the feeling. Even after twenty-one years, there was no mistaking that level of nausea. "No way!" I said aloud, "That would be impossible!" …But with God all things are possible (Matthew 19:26 NKJV)
Let me just say that somewhere in the world, there is a vasectomy doctor who is not very good at what he does. I love him. And who really knows if he isn't as skilled as he should be, or if our great God sabotaged his work. At the age of 45 for me and 57 for my husband, we saw those awesome, terrifying, wonderful, exciting, life-changing, tiny blue lines.
We were thrilled beyond words and scared half to death. My husband calculated how old he would be for every milestone in her life. My son, who had prayed many years for a sister while he was growing up, was afraid to be happy. "Good things like this never happen to us," he said. And I, forgetting that God's odds are greater, stayed awake at night researching the odds that she would actually be here, and that she would be healthy.
The weeks passed slowly. I was unbelievably sick and it was hard to keep up our usual routine. One morning on the treadmill, I started to pray the usual prayer. "Help me be strong for…" I suddenly stopped. I literally laughed out loud as I said to God, "This is it, right?" Our family had been inexplicably blessed with life. It all seemed surreal. But not everyone thought it was cause for celebration. I became apprehensive about sharing the news as people reacted in unpredictable ways. One woman drove thirty miles to come to my work and tell me that she had been "older" too, and had lost her baby at the same stage of development I was in. In fact, several women who had lost babies paid me a visit at work. One woman told me at the end of the visit that she had strep throat! A neighbor responded to the news with a wrinkled brow and an "Oh my! What are you going to doooo?" And my favorite for the moron-of-the-pregnancy award was a professional male whose first response was "Are you going to put it up for adoption?" Seriously?
I wanted to be happy. I wanted to laugh, to dance, to rejoice, but what if they were all right? I found myself being defensive, like I had to explain or justify a baby at our age. At last I couldn't stand living in the grip of fear any longer. I went out on my lunch break and bought her a present, her first Nikes. I needed to see something in the house that belonged to her. I needed to show her that no matter what people were saying, I had faith that she would grow and make it home.
March 16, three weeks before her due date, we held her. Beautiful, perfect and so well-developed the doctors considered her full-term. Now, 19 months later, she is sleeping beside me while I write. And I can tell you for certain, it doesn't matter that our house is too small, or that I gave up my career in broadcasting. It doesn't matter that we're older and that we get tired sooner than we wish we would. It doesn't matter that her requirements seem limitless and our bank account hovers near empty. When she smiles, everything is perfect. It might be cliché, but unplanned does not mean unwanted. She has brought so much love into our unsuspecting lives.
Welcome home baby Erin.