When Susana Butterworth, 23, a student at Washington State University Tri-Cities and her husband, Dallin discovered that the son she was carrying had trisomy 18, they decided to do everything they could to celebrate him.
Genetic testing and a highly detailed ultrasound identified physical markers of trisomy 18, which included clenched fists, rocker bottom feet, a strawberry-shaped head, brain cysts, and a congenital diaphragmatic hernia that pushed his stomach into his chest cavity and displaced his heart to the right side. Knowing his medical challenges, Butterworth dedicated herself to her son and borrowed a home doppler from a friend so she and her husband could listen to their son's heartbeat every night.
"I wanted all of the memories I had with my son to be good ones," Butterworth says.
Around 35½ weeks, Butterworth noticed that her son had stopped moving as much. She and her midwife decided to induce within the next few days to give the parents a chance to meet their son alive and share precious moments with him. "I could just tell that he wasn't going to make it to full-term," she explains.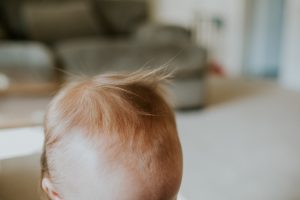 Sadly, they did not get that chance. The following day, the expectant mother could no longer find her son's heartbeat. They were given the news at the hospital that their son had passed away. The experience of getting an ultrasound — something Butterworth had looked forward to during her whole pregnancy as a way to see her baby boy — became an entirely different experience, as the screen revealed her son was not moving. Butterworth and her husband were heartbroken and made the decision to deliver immediately.
Their son, Walter Thomas Butterworth was born still at 11:52PM on March 8, 2017.
"[He was] more perfect than I had imagined," says Butterworth. "He had lots of hair and this cute button nose that I loved to look at in the ultrasounds. He was laid to rest next to his great grandma. Sue on March 11, 2017."
After her son's death, Butterworth channeled her grief into a special photo series she developed, called the Empty Photo Project. Her photos feature parents who have experienced a child loss, displaying their sorrow with powerful images that show the emptiness their loss has left behind.