The other day I had a phone interview that I was incredibly nervous about. I was dreading it all morning and as the time rolled closer I found myself in the kitchen eyeing a bag of chips. Don't do it, I said to myself. You don't even like those chips. You don't even want those chips. 
Seconds later, I was shoveling handfuls of chips and dip into my mouth.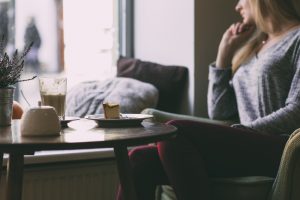 The reason? I was stressed. And when I'm stressed, I eat.
For as long as I can remember, I have been an emotional eater — munching when I'm anxious (which is all the time), using food to celebrate, drowning my PMS sorrows in chocolate. My entire family — along with much of the nation — eats this way to the point that it has become a joke. Instagram posts tagged #stresseating, Tina Fey shoveling cake in her mouth out of distress for the entire country, quotes on Pinterest about how familial stress drives us to eat during the holidays. It's all super relatable and super funny, right?
Except when you're doing it, it's not exactly funny … at all.
Although there is a real, clinical difference between emotional eating and binge-eating or other eating disorders, there can be a blurry line between the two. Oftentimes, they actually go hand-in-hand.
For me, sometimes I feel like my whole life revolves around food. I think about what I'm going to eat for breakfast when I tuck myself into bed at night. I beat myself up when I (yet again) ignore the healthy food in my fridge and wolf down my kids' leftover PB&J sandwich at lunch. I engage in a near-constant inner dialogue about not letting food control me. It's quirky and funny to be able to eat an entire pizza and wash it down with ice cream and candy if you're a stick-thin Gilmore Girl, but it's not as adorable when you're a 31-year-old slightly chubby mother of four, you know?