I am so excited to unveil my newest book, The Moments That Made You A Mother. 
(And how gorgeous is my cousin of j&j brusie photography on the cover??)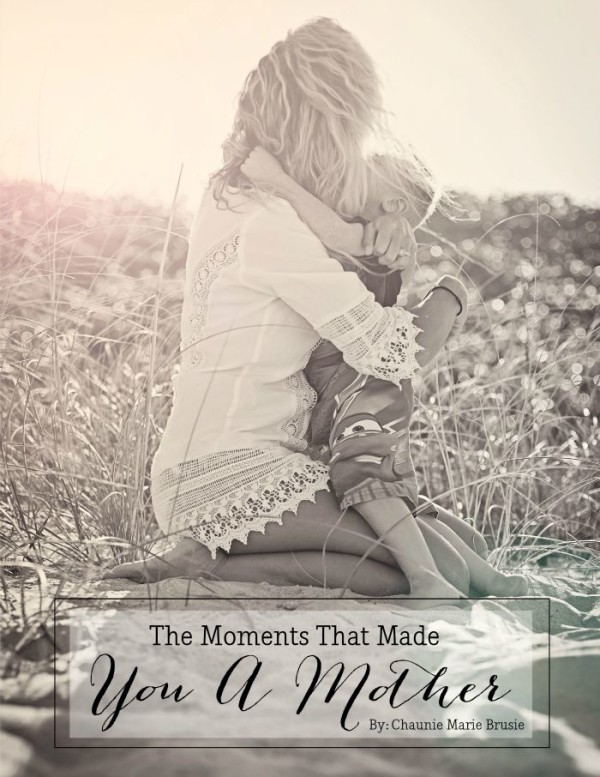 My latest ebook features eleven short essays that take you on a journey of motherhood–from laughing at those times we have looked at our bed with the deepest of longing to spend more time with it to the test that parenting has had on our marriages and relationships to the beautiful pain of learning to live with our hearts outside of our bodies in the gifts of our children–these are the moments that made you a mother.
You can think of this book as the "best of" Chaunie, with short, digestible chapters that are perfect for late nights up feeding a baby or those snippets of time when you just need to read something from someone who isn't asking you to cut the yucky parts off of their sandwich that you just spent extra time cutting into the first shape they asked you. Or, you know, reading in your special place–the bathroom.
No judgment here.
I wanted to do something a little different with this book and offer YOU, my longstanding loyal and dedicated fan (ha), the opportunity to 1. Review my book for free and 2. Make money off of my book for yourself.
I was inspired, of course, by the incredible Paula, who shared her secrets for making an actual living off of her blog, by using affiliate programs to earn extra income.
So, the way it works is pretty simple:
1. You sign up to be an affiliate for my book by registering for an account at E-junkie and then clicking here. After you sign up under my book, you will be given a code you can paste into your site or a link to use (you can read a brief overview of how to sign up to be an affiliate). 
2. Email me at [email protected] letting me know you signed up
3. I'll send you the book for free to review
Then, when you're ready, you can post your own review of my site and put your your affiliate links/codes wherever you may like and we both make money. Pretty cool, huh?
And of course, if you want to skip all of that and just buy the book directly, I'm totally cool with that: