Call me crazy, but I think that there may be a few misconceptions (ha!) about unplanned pregnancy floating around out there. 
Perhaps maybe something along the lines of all we're all poor, uneducated mothers popping out as many kids as we possibly can to milk the system?
Yeah. About that.
Today, I'm setting out to dispel some of the common myths about unplanned pregnancy.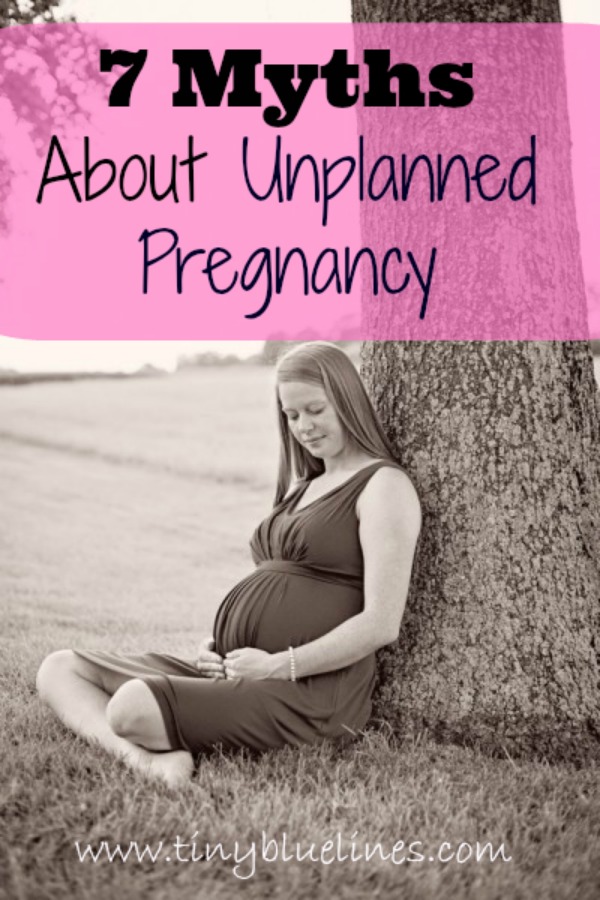 Myth #1: Unplanned pregnancy doesn't happen that often.
Fact: Over half of all pregnancies in the United States are unplanned.That's a whopping 7 in 10 pregnancies. (Source) We are not alone, ladies.
Myth #2:  Unplanned pregnancies only happens in teenagers.
Fact: The highest unintended pregnancy rate at last count was among women aged 20–24 (104 per 1,000 women). More than half of all unplanned pregnancies happen to women in their 20's.  Women in their twenties are the highest age group for unintended pregnancies. 
Myth #3: Unplanned pregnancies only happen in poor women.
Fact: Unintended pregnancies happen across the board for all income levels. 
Myth #4: Most women who have unplanned pregnancies choose abortion.
Fact: Although traditionally this has been true, the trend is changing. In 2008, 60% of women who had unintended pregnancies gave birth. 
Myth #5: Women who have unintended pregnancies don't use birth control.
Fact: One-quarter of women who have unintended pregnancies use contraceptives. 
Myth #6: Unplanned pregnancies only occur in uneducated women.
Fact: Unplanned pregnancies occur across all education levels. In fact, 77% of women reporting unplanned pregnancies have had "some college".
Myth #7: Unplanned pregnancies is defined by ethnicity.
Fact:  Unplanned pregnancies occurs almost equally across races; for example, in 2011, unmarried black women reported 7 in 10 unplanned pregnancies, while white women reported 3/4 of all pregnancies as unplanned. 
Image via j&j brusie photography 
Want more support for women facing unplanned pregnancy? Order my book today! Discounts available for centers and organizations ordering in bulk!