Well, it's been a while since I've posted one of my Your Lines interviews with an inspiring young mom, but today, I'm happy to feature the beautiful Brittany of The Lily Field. She is a mother that almost seems too good to be true-always cooking up some delectable, healthy meal and loving life at home with her two young boys-and another baby on the way. Read on to learn more about how this stay-at-home mom keeps joy in her life while raising her young men. 

Can you tell about your journey to your own two lines?
For as long as I can remember, I've wanted to be "momma." I am easily drawn into the world of children and get swept away by the wonder and magic of it all. Little life, so vulnerable, full of wants and wishes, is very alluring to me. It is so simple, so pure. To be blessed with children always seemed like the ultimate gift.
We went into marriage with our hearts wide open to the possibility of children. Call me crazy, but it is almost as if my husband and I craved to see and hold the fruit of our love. Two months of marriage landed us baby #1. I remember seeing those two lines and PASSING OUT! I blame that on being sick with pneumonia at the time. I'm not that weak at the knees!
It was during my first pre-natal visit that I learned that I had a deformed (bicornuate) uterus and should never have been able to get pregnant in the first place. We were told that there was only a 45% chance that any children we conceived would survive my land-mine of a womb.
Life is a gift. I learned not take each day for granted. My whimsical, even romantic, idea of motherhood was shaken by the reality of my deformity. The very thought of seeing "two lines" became scary as pregnancy seemed to come full of risks for me and our child. But God chose to do crazy things after the birth of our firstborn, Isaiah. He completely healed my womb and left it in perfect order for future children. I still am in thankful awe of His goodness. It is truly a miracle. More of that story here.
You call motherhood a "vocation?" What does that look like on a day-to-day basis?
For sure – motherhood is a calling. It is something that you have to be open to if God calls. It is full time, every day for the rest of life. And motherhood isn't exclusive. Sometimes it comes with biological children and sometimes it comes with spiritual children – the souls that God wants us to nourish and enrich with our feminine spirits as women.
My vocation as a mother is craaaaaaazy on a day-to-day basis. I find myself in a constant battle to pray or swear beneath my breath. That's just the truth! It is a lot of relying on God to take what I am bringing to the table and turn it into something amazing. I just want my kids to remember joy-filled days with a free-spirited mother who trusted in God with all of her heart… who let HIM "mother" us all with each passing day.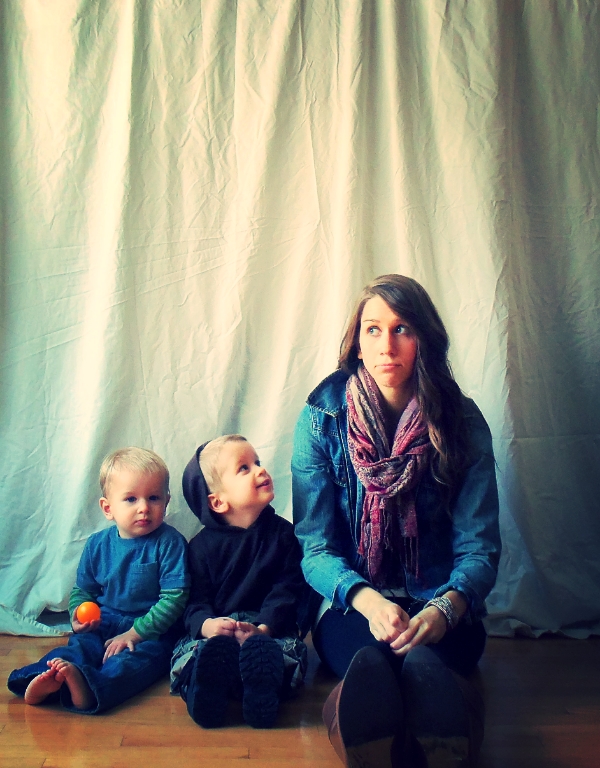 You're a big believer in NFP: how does it make your marriage stronger?
I cannot even begin to tell you how big of a believer I am in Natural Family Planning! If there was a poster child for NFP – I would be it! Do you know how seriously amazing it is to have your husband know the rhythm of your body?! In the years we have been married, my husband has been able to learn my body's unique pattern when it comes to my fertility and I love him ALL THE MORE for being willing to respect and take care of my body in this way.
We are able to communicate, pray, and discern through each month; open to the will of God for our family. I'm gonna go out a limb here and say that sex has been brought waaaay way down in our society today – almost coming across, dare I say, as merely a recreational activity? You all -  SEX IS HOLY. AWESOME. Both unitive and procreative. NFP allows me and my husband to experience BOTH of those wonders in a way WITHOUT barriers. We are able to enjoy the marital embrace without the "protection" in between. No resentment. No fear. Completely entrusting our sexuality and fertility to the Big Man Upstairs; the Wild Card in our marriage… Jesus. Did I mention that I was standing on a soap box while I typed that?! Y'all I'm NFP's biggest fan.

I just love your joy about life-do you ever feel not-so-joyful in your life as a mom?
I mean we all have our days, right? I find so much joy in knowing that my children could easily not be here… but ARE. God never promised me that I would have children; and from a medical perspective, I should not have any kids. But here they are! They are the wild wonderfuls in my life and to not be joyful, even with the spilled milk and endless shenanigans, seems tragic in this crazy, love story between me and my littles called MOTHERHOOD.
Be sure to drop by Brittany's blog, follow her on Facebook, and catch all her adorable bump shots on Instagram!