As a labor and delivery nurse, I was very careful to ask my patients if they wanted their baby to have a pacifier. 
A lot of parents, especially breastfeeding moms, don't want their babies to have pacifiers for the fear that it will interfere with the baby's latch. Totally understandable and totally respectable from the health care professional's end.
But for those busy times in the hospital, or maybe for late-night deliveries, it might be hard to trust that every nurse or staff member who comes into contact with your baby will remember to ask.
So The Blossoming Bump has designed some clever + cute hospital printables for moms-to-be who don't want their babies to risk any pacifiers or bottles in the hospital.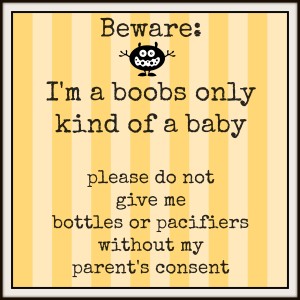 You can check out this printable-and many other cute designs-to print for FREE and tuck away in your hospital bag over here. And visit The Blossoming Bump on Facebook for more updates!