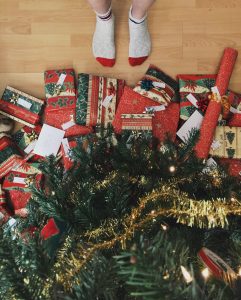 Yesterday, as I was sneaking candy from my kids' Halloween stash, my friends started a group text about Christmas present shopping. One mom was about halfway done with her shopping already and the other was getting started. Looking at their texts, my mouth full of chocolate, I was genuinely shocked.
Christmas shopping? Already? I haven't even put the pumpkins away!
Ugh.
But it really is that time and this year, as I scramble to hide/eat the rest of the Halloween candy, I am also vowing to get a head start on making sure that come December, Christmas in my house goes down a little better than it has in the past. Because if you want the truth, Christmas has gotten completely out of control at the Brusie household, I am sorry to admit.
Maybe you're like me and are feeling that same sort of shame creep up inside of you. Maybe you know exactly what it feels like to vow that this year will be different, only to look over the massive pile of presents you have accumulated (seriously, how does it happen?!) with a look of horror. Maybe you wish that you, too, could curb the crazy gift-giving that seems to come from loving and well-meaning family and friends without hurting feelings or feeling like a jerk. Maybe you wish you could just forget that unfortunate incident when your kids were so overstimulated on Christmas that they honestly acted like spoiled brats.
If you relate to any of the above, I totally understand, and not only have I been there, but I have been there many times. Take last year for example–I actually tried to get a "head start" on Christmas shopping and started ordering presents early online. Except my master plan majorly backfired when I completely forgot everything that I ordered, kept ordering more, panicked last minute that I hadn't bought enough, and went to an actual store (who does that?!?) and bought even more gifts. Come wrapping time on Christmas Eve, I wanted to cry at how many presents I had. It was just entirely over-the-top.
Frankly, Christmas has become kind of exhausting for me and for my kids, too. Too much of anything, whether it's presents or parties, candy or stimulation, is just not fun for anyone. So this year, I'm making a vow to cut back and enjoy the season more.
Here's my master plan at Big City Moms